Mountains for MD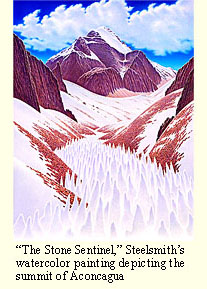 (From The Honolulu Advertiser)
Hawai'i artist and mountain climber Alex Steelsmith recently joined an expedition to climb 22,841-foot Aconcagua in Argentina, the world's highest mountain outside of Asia.
He created a landscape painting based on his experience, and he's making prints of it to raise money for the Muscular Dystrophy Association (MDA). They honor his late friend, who suffered from a muscular disease and died at 22, weighing less than 55 pounds. Steelsmith's already raised more than $7,500.
A limited edition print goes to anyone who makes a donation of $75 or more to the MDA by May 29. Send checks payable to the Muscular Dystrophy Association to: Steelsmith, 150 Hamakua Drive, No. 800, Kailua, HI 96734. Be sure to include your shipping address.